The Euphoria of Cisco Live Barcelona 2020
It all started with a phone call from Martin Montag. He asked me if I was interested in joining a cisco event in Barcelona, Spain. I am a DevOps engineer with basic knowledge of networking, so right away I got confused about the decision whether to say yes or no. I told Martin that I will call him back within the next hour to let him know about my decision. Within the next ten minutes, I took the decision and let Martin know that I want to attend this event. Not long after, I received my event ticket. So the rush begins.
---
TL;DR
  You have been warned! 
---
26 January 2020
The day started with excitement and the rush to fly to Barcelona. In the early morning, I took a train to the airport and unfortunately the train was late and I started to think that I am going to miss my flight but I was just on time for my flight. That was a pretty close call.
When I landed at Barcelona airport it was already late afternoon. I was thinking to go by the Cisco Live event place to get registered and get my badge. But when I was coming out of the airport I saw that CISCO has thought about the attendees and put two booths for registration right in front of the arrival exit at the airport. I took the chance and registered myself right away.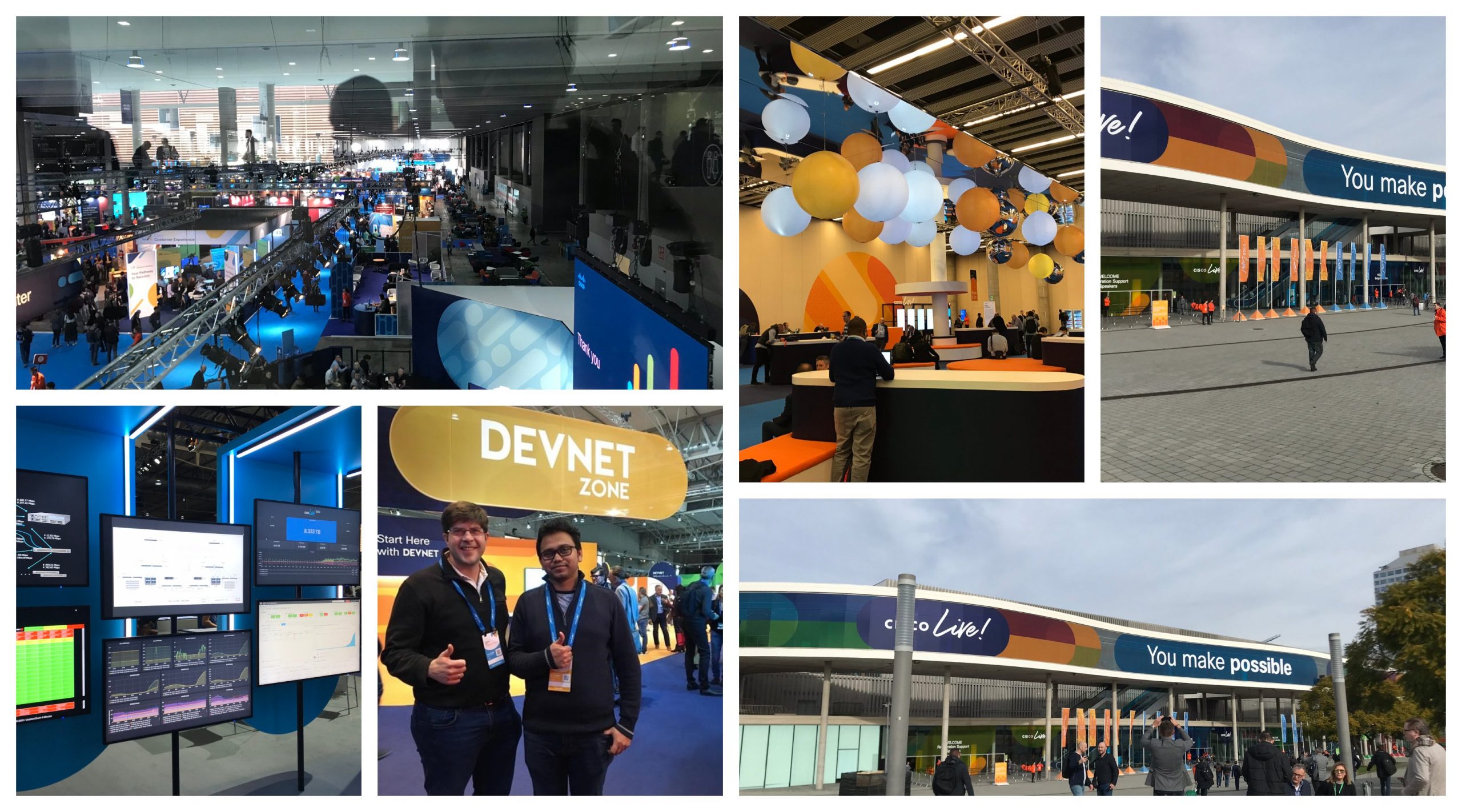 27 January 2020
I started my journey from the hotel around 8:30 am and by 09:10 I was at Fira Barcelona. I liked the way cisco live crew members indicated us to the right gate and right location. I didn't have to wait in a queue for a minute. Why this matter? When I learned how big of an event this is, I had an expectation of a huge queue in my mind. But CISCO has impressed me even before I went through the gates at the event venue. As a first-timer, that's huge. I felt happy.
As you might have already noticed that I had an "Explorer" badge that means I am here to explore. So, I started exploring right after I entered the venue. I really really liked the color spectrum display on the walkway towards hall 6, the band in the hallway was playing awesome offbeat music. I was feeling excited. As I booked my sessions earlier, I knew where I am going.
The first session I attended was about Cisco DevNet Certification. Ryan Rose delivered an excellent presentation and answered questions regarding the upcoming DevNet certification exams. This session was motivating and informative.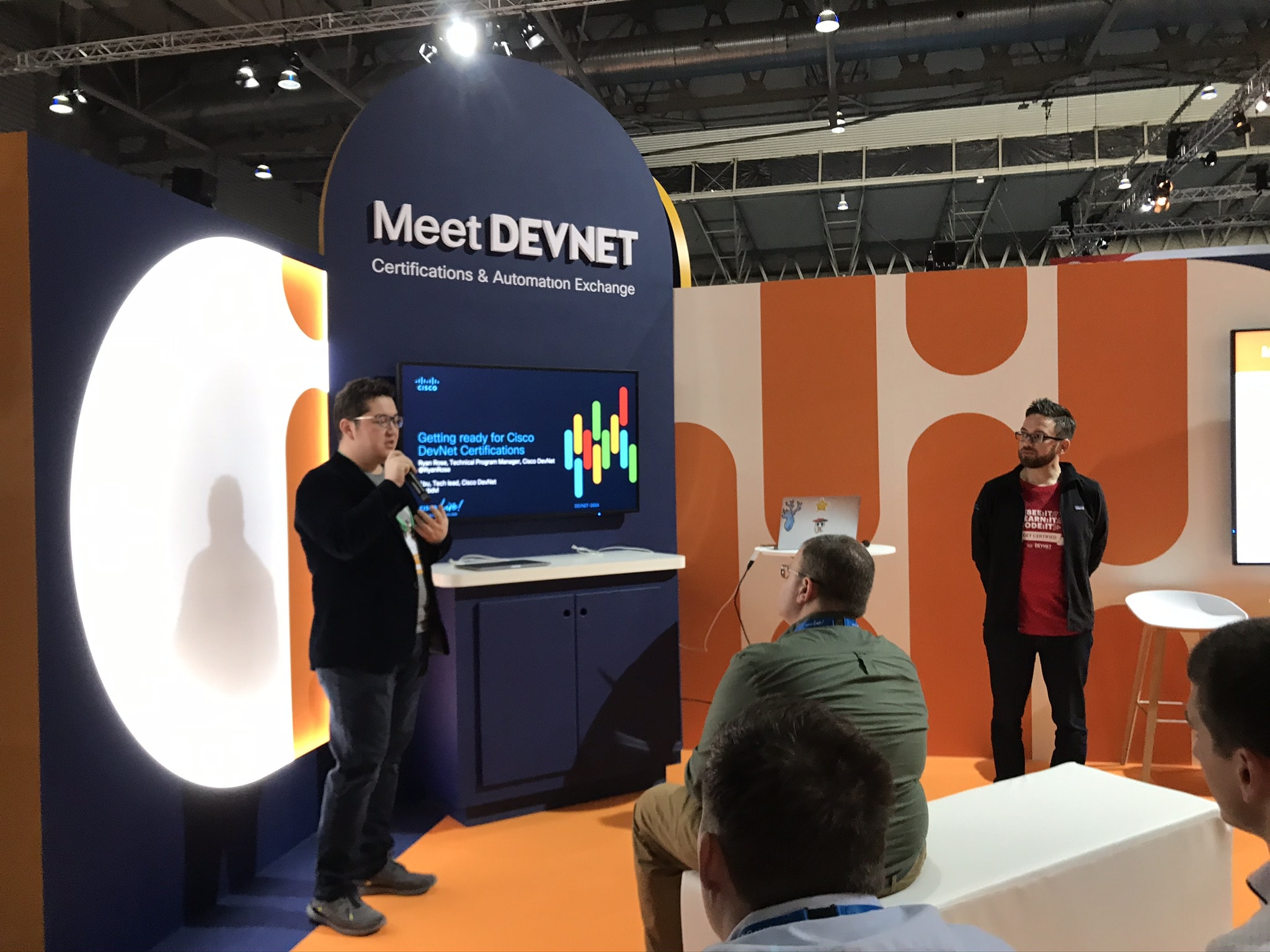 After my first session, it was time to find some fuel for my body. I didn't have to look much. There were two cisco live crew holding placards up high – Ramen and Noodles and Fish and Chips. The lunch was wonderful and once again no queue.
After lunch, I wondered around hall 6 for a couple of minutes and checked out the walk-in labs and capture the flag section. It was quite amazing to see how participants can practice their skills that they just learned in a classroom session. After that, grabbed an awesome coffee from the bar and headed to the next session.
Around 15:00 Hrs, I was at the front row, listening to Julio Gomez about The coolest cloud-native DevOps tools. It was an astounding presentation of toolsets used in the cloud-native landscape. The presentation also focused on flexibility, speed, and reusability. It was really nice to see some common apps that I, as a DevOps engineer come to like over time.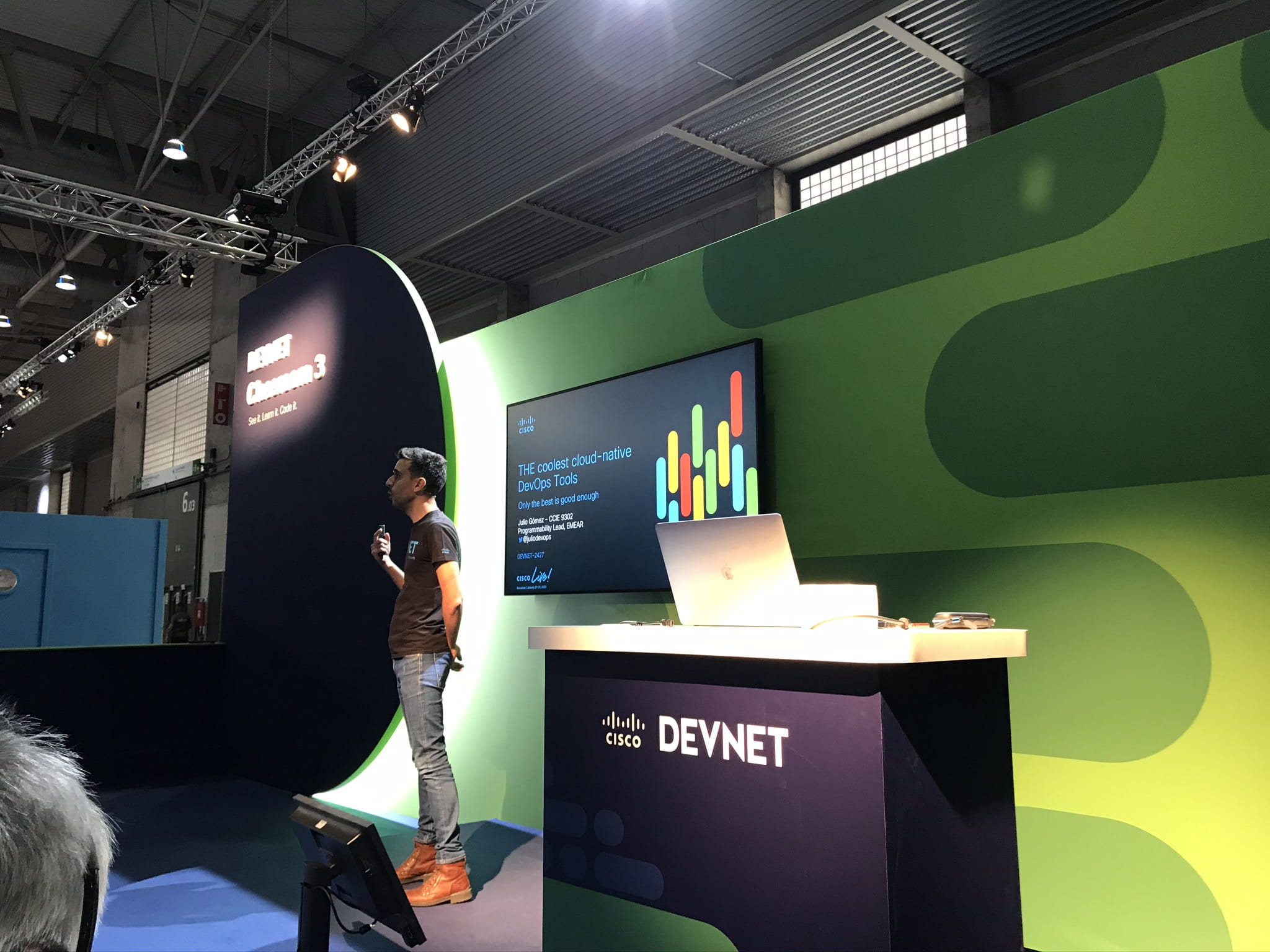 After this session, I roamed around hall 6 and hall 7, exploring the innovative technologies from Cisco and partners. I took a bit of rest and grabbed another coffee from the park cafe. Once it was around 17:00 Hrs, I started moving back to DevNet Zone for my day's last session.
PyATS is a well known end-to-end testing ecosystem. This last session of the day was a workshop brilliantly demonstrated by Siming Yuan. In the workshop, he showed us how to set up the environment and write easy configuration files and change and test network configurations. It was profoundly helpful.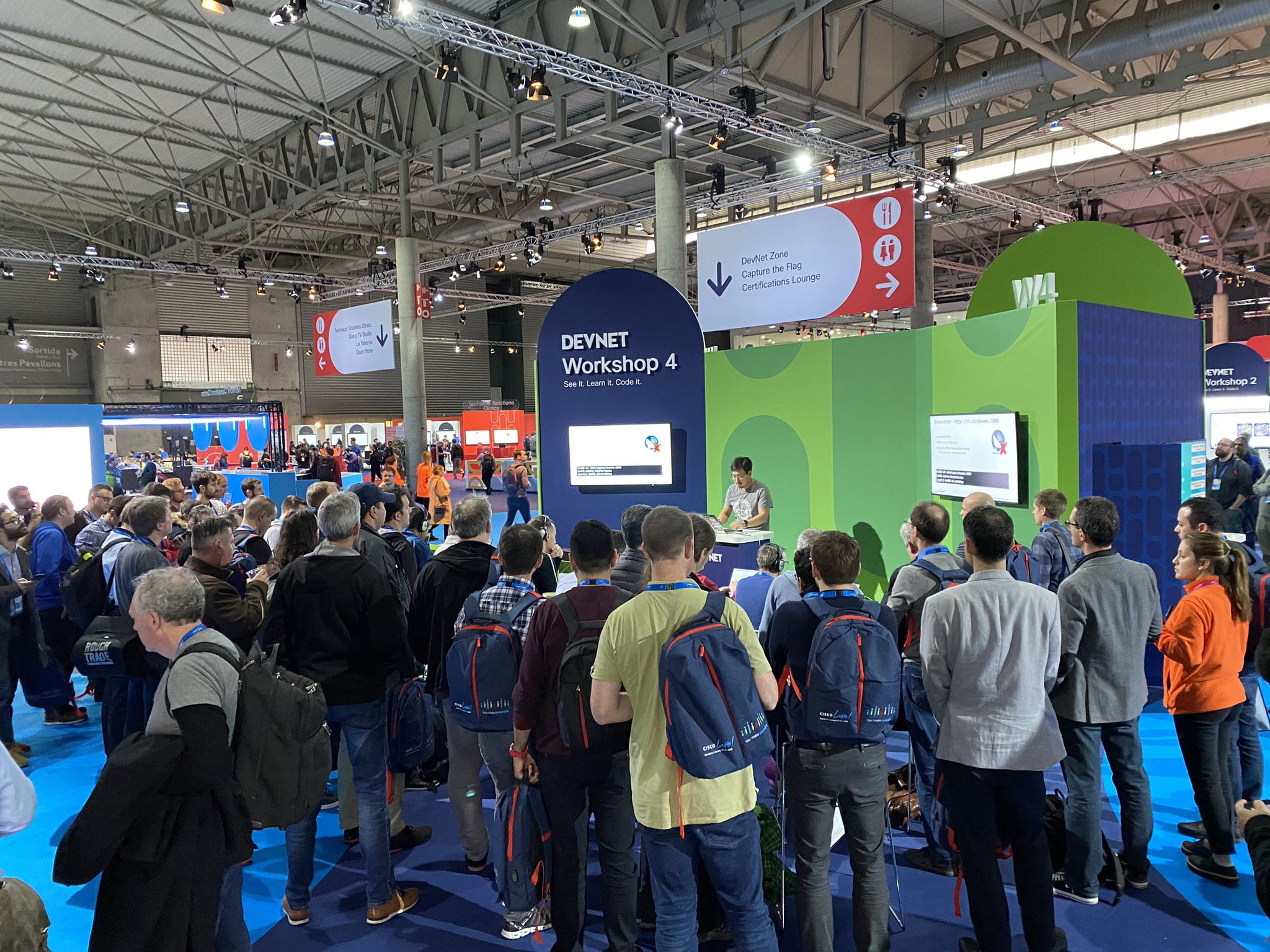 After the session, I grabbed another coffee and head back to the hotel for the day.
28 January 2020
The day started with a fine-grained coffee from "The Park" area and headed straight to hall 3 for the keynote. I have missed the first few minutes of it as it's a long walk to hall3. The Keynote was full of information and new technology announcements. It was enjoyable through and through.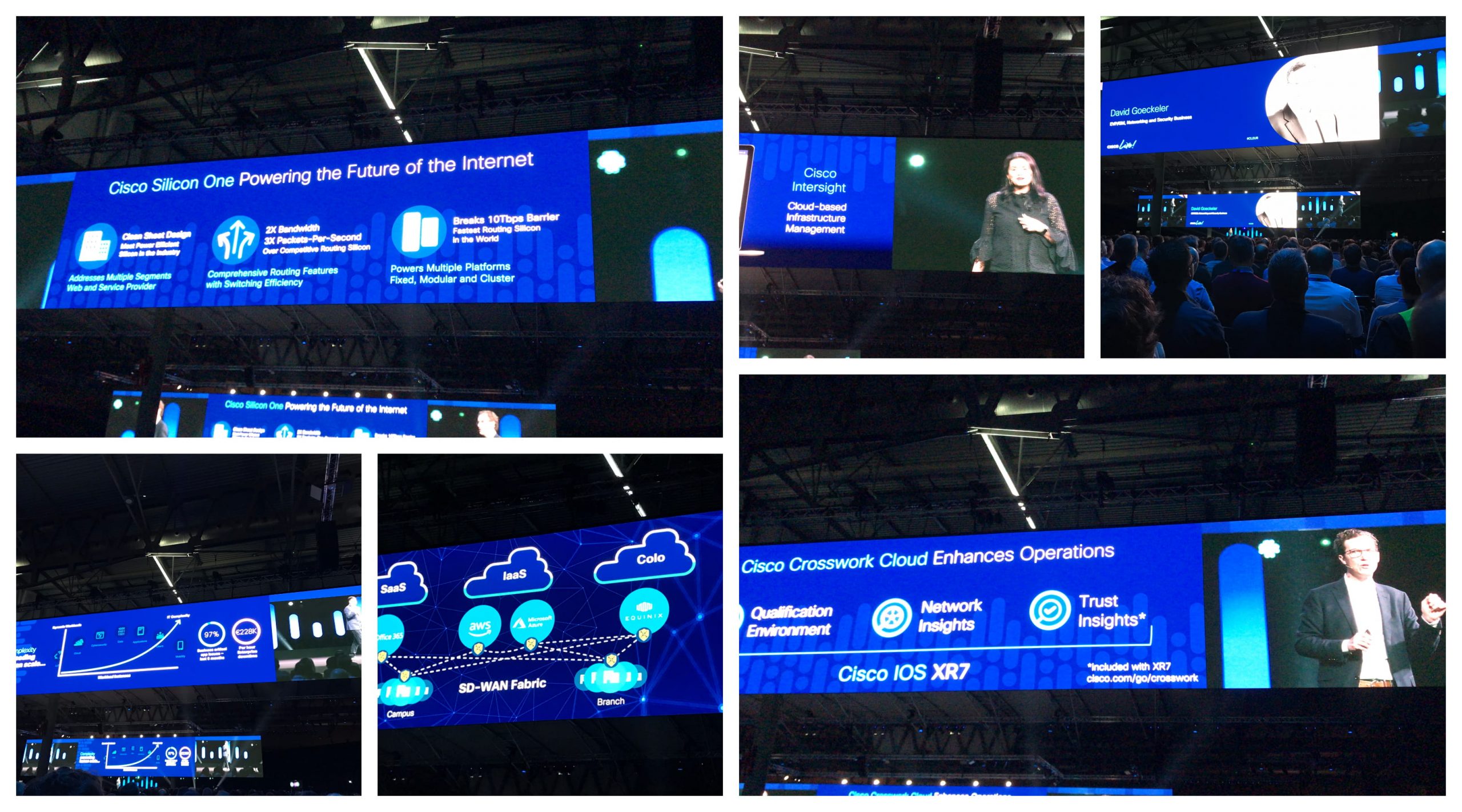 Next stop, Coding 1002 – Getting Started with Python session presented by Hank Preston III. The session was all about getting your hands wet in the vast sea of python. The content of the presentation was rich and exact to the point. 50 min session passed in a blink of an eye. Witnessed the python journey from the front row.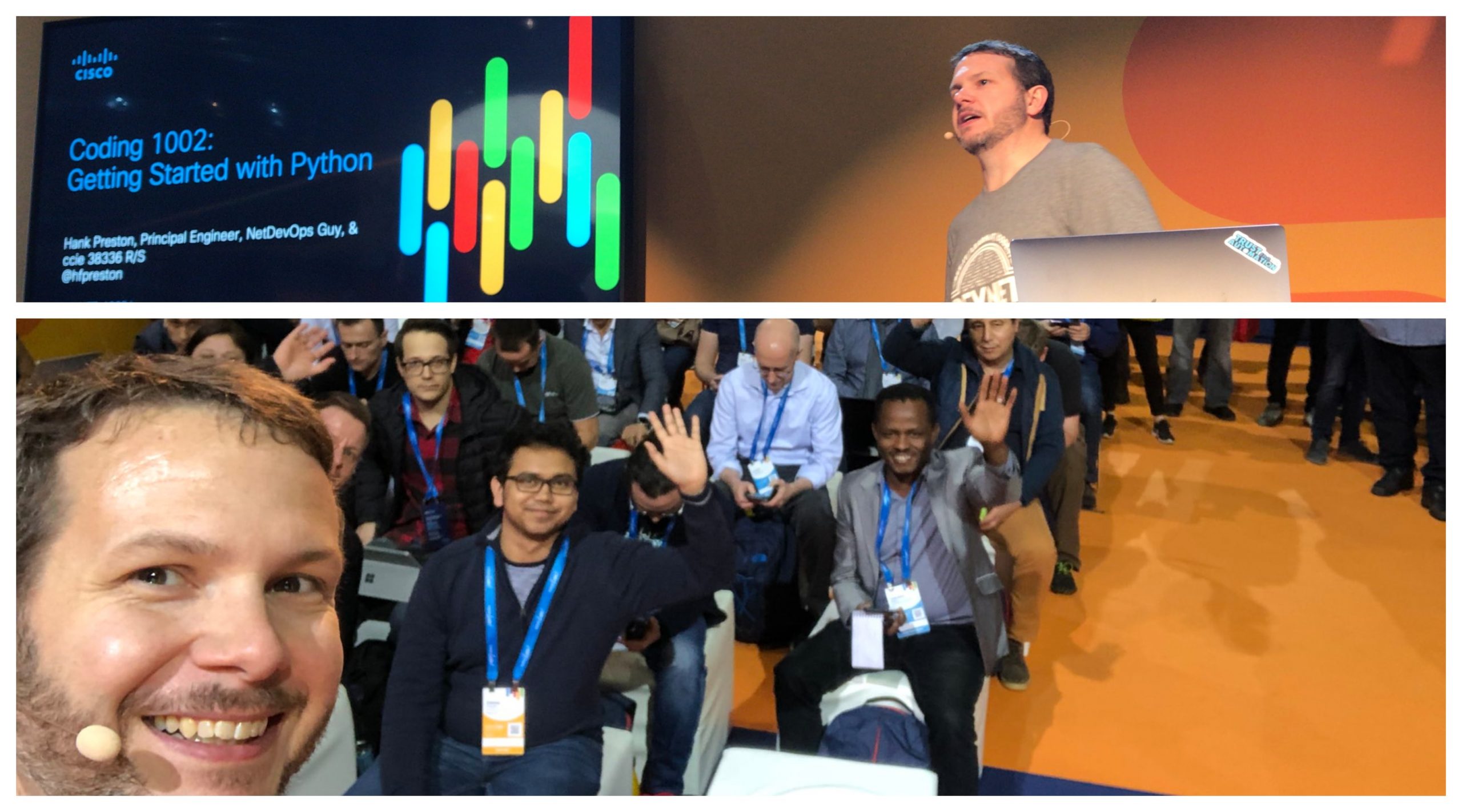 Around, 15:00 Hrs, I joined a session by Ravi Jandyala on Automate Kubernetes Infrastructure deployment in a Multicloud environment using Cloud Center Suite API. It was all about deploying and managing k8s clusters with CISCO Cloud Center. The presentation was insightful.
Day's last session was by Matt Johnson about Kubernetes. Why Kubernetes is popular and why we need it and what are the typical problem faces with virtual machines were explained with joy and fun. I really enjoyed learning about the challenges and opportunities of Kubernetes.
Day ends! Grabbed a nice hot cup of coffee and headed straight to the hotel.
29 January 2020
The day started with a jolt of energy at the cisco live hall 6 as I roam through the walk-in labs. I was amazed by the different categories that one can dive in to learn more in-depth and get hands-on experience on the newest of the topics.
As Conor Murphy's session on the importance of documentation nears, I felt excited to know more about the documentation process from the industry-leading engineers. Building a world-renowned software that won't help anyone if the documentation is not good enough. This session helped me validate my ideas about the documentation process and its importance like any other session in cisco live Barcelona 2020. The session was insightful and enjoyable.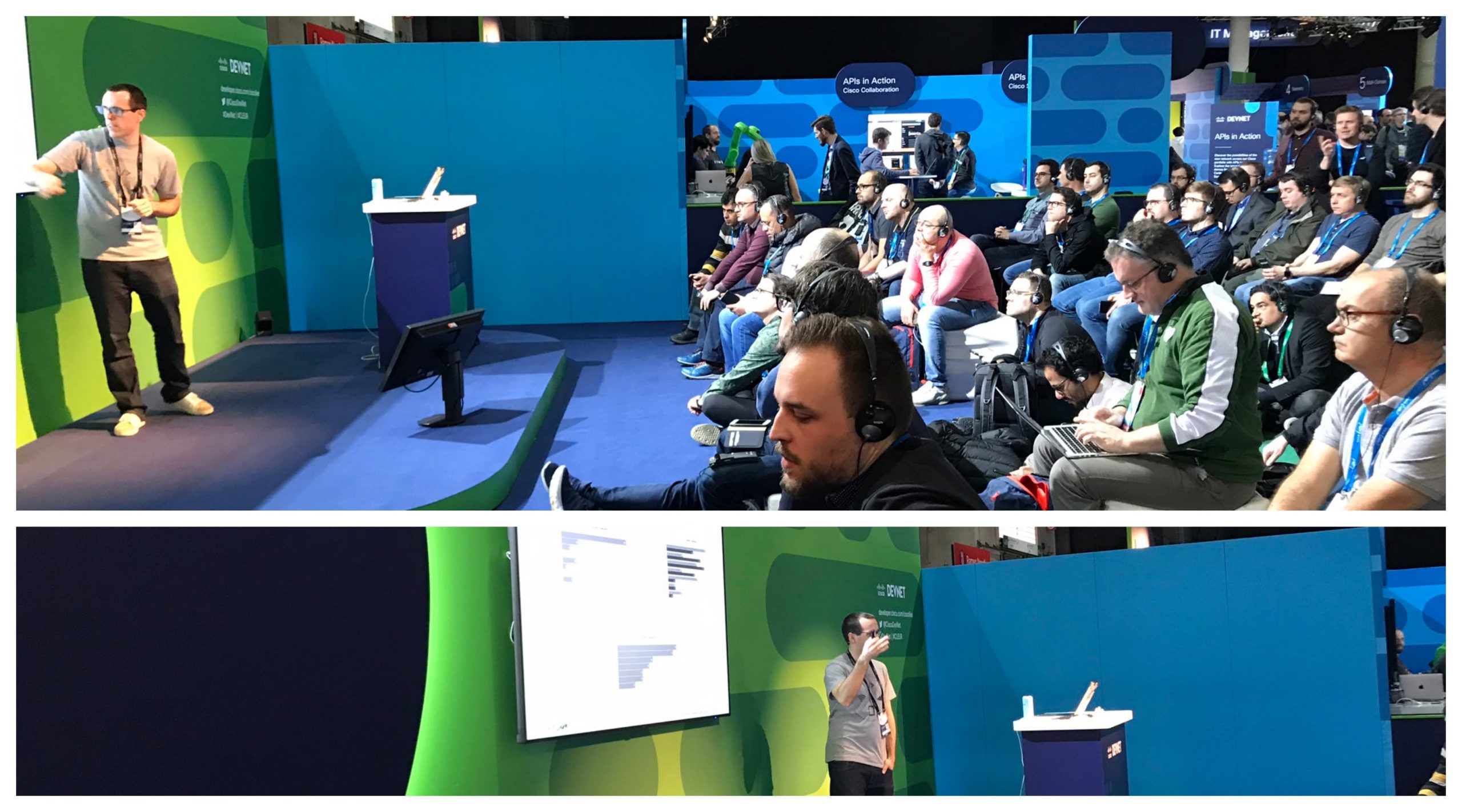 Around 16:00 Hrs, I and my colleague Jesus Perez joined Hank Preston III for the first-ever Network Automation Game Show. It was an eyeopener about the different opinions about network automation and automation tools and processes. I really enjoyed the game show. The feeling was eccentric and the energy in the studio was electrifying. I loved how well all panned out and learned a lot in the process.
Here is a link to the video, in case you missed it.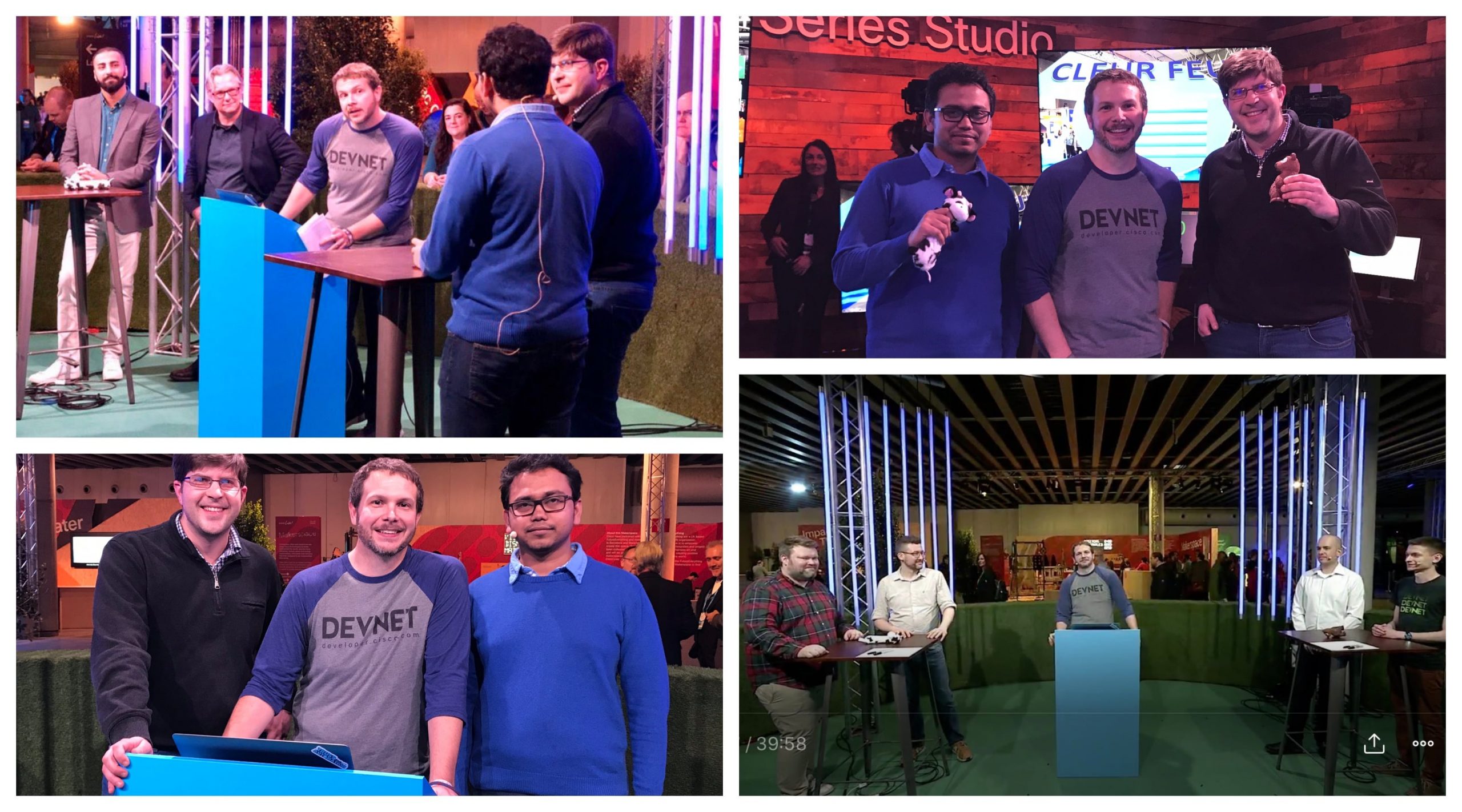 What a day! At the end of it, I have joined Stuart Clark for the session about continuous integration with GitHub. It was really awesome to hear about the common mistakes in a production environment and how to NOT test in production. How to better build and test the code right from the start. This session was fun because it had cats in it.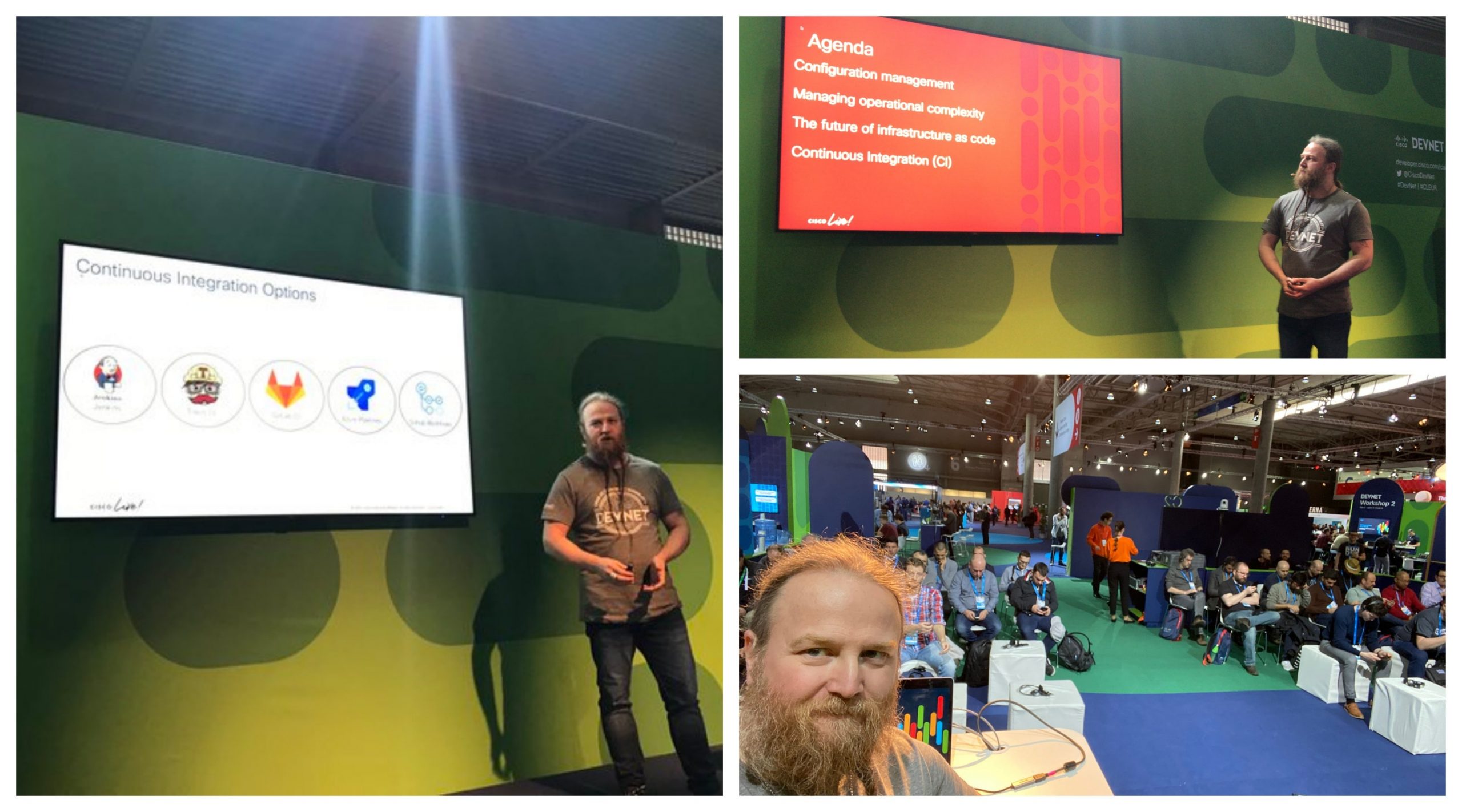 Day end! Grabbed a nice hot cup of coffee and headed for the German Evening party. It was an awesome crowd with good food and drinks along with tasteful music.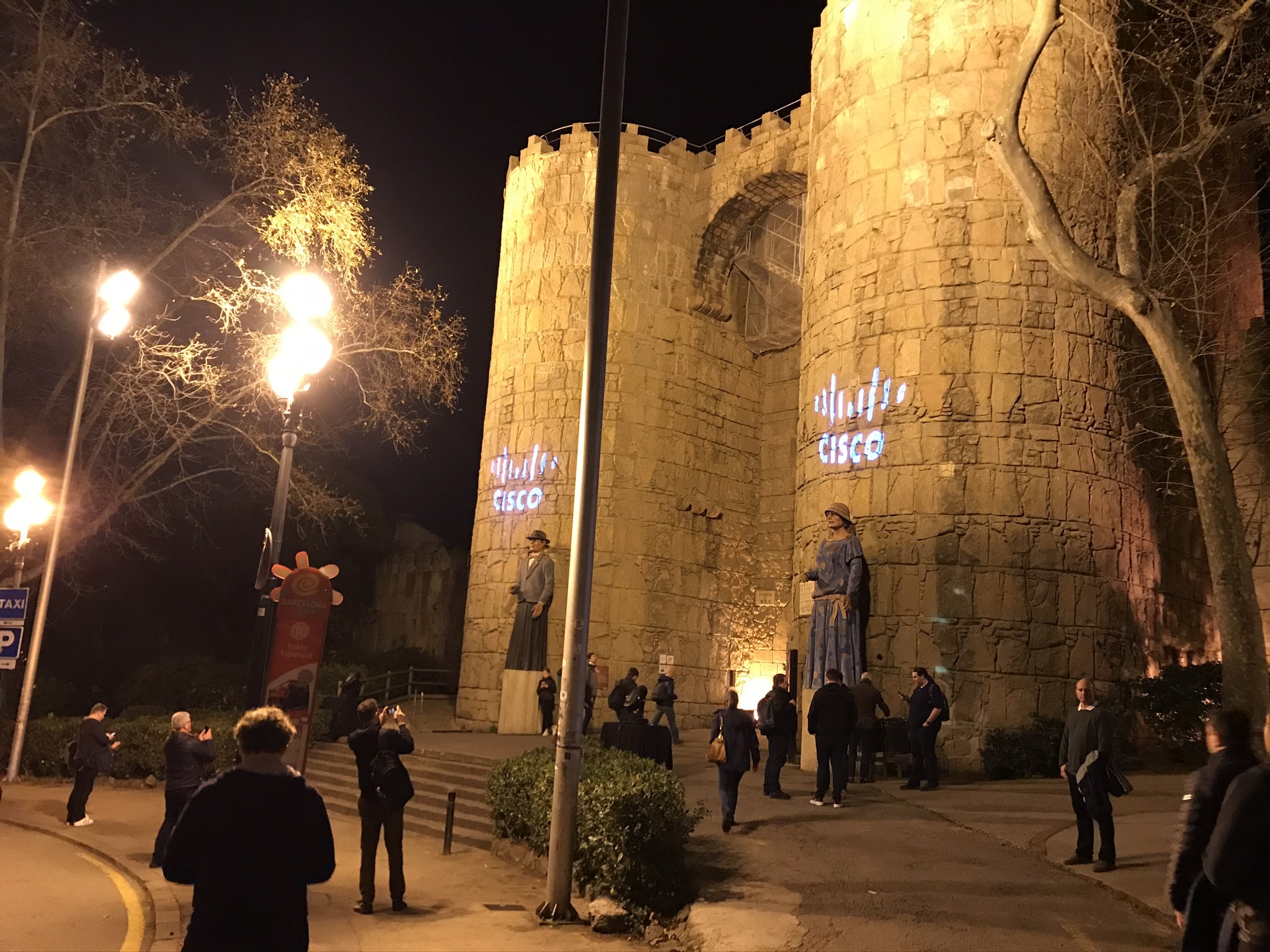 30 January 2020
It seemed like the day started a bit late for me. In reality, I woke up late and indulged myself a cup of freshly brewed coffee in the hotel room and then headed for the event venue. When I reached Fira Barcelona for the 4th day, I was decided to take a turn and look around into the The World of Solutions. I found many interesting topics are on display along with state-of-the-art technologies. The walking tour at hall 7 was as amazing as always for the last four days.
I was interested in the topic – how cisco built their sandbox data center and it was none other than Hank Preston III delivering the answer to that curiosity in a detailed session. It was profoundly amazing to listen to him how DevNet built an automated data center in just six months.
As time flew by, it seemed like I have covered all the grounds and sessions more in-depth in the last four days. So I decided to take a break and go cheer up for FC Barcelona at the stadium. I bid goodbye to Fira Barcelona and Cisco Live and headed toward the stadium.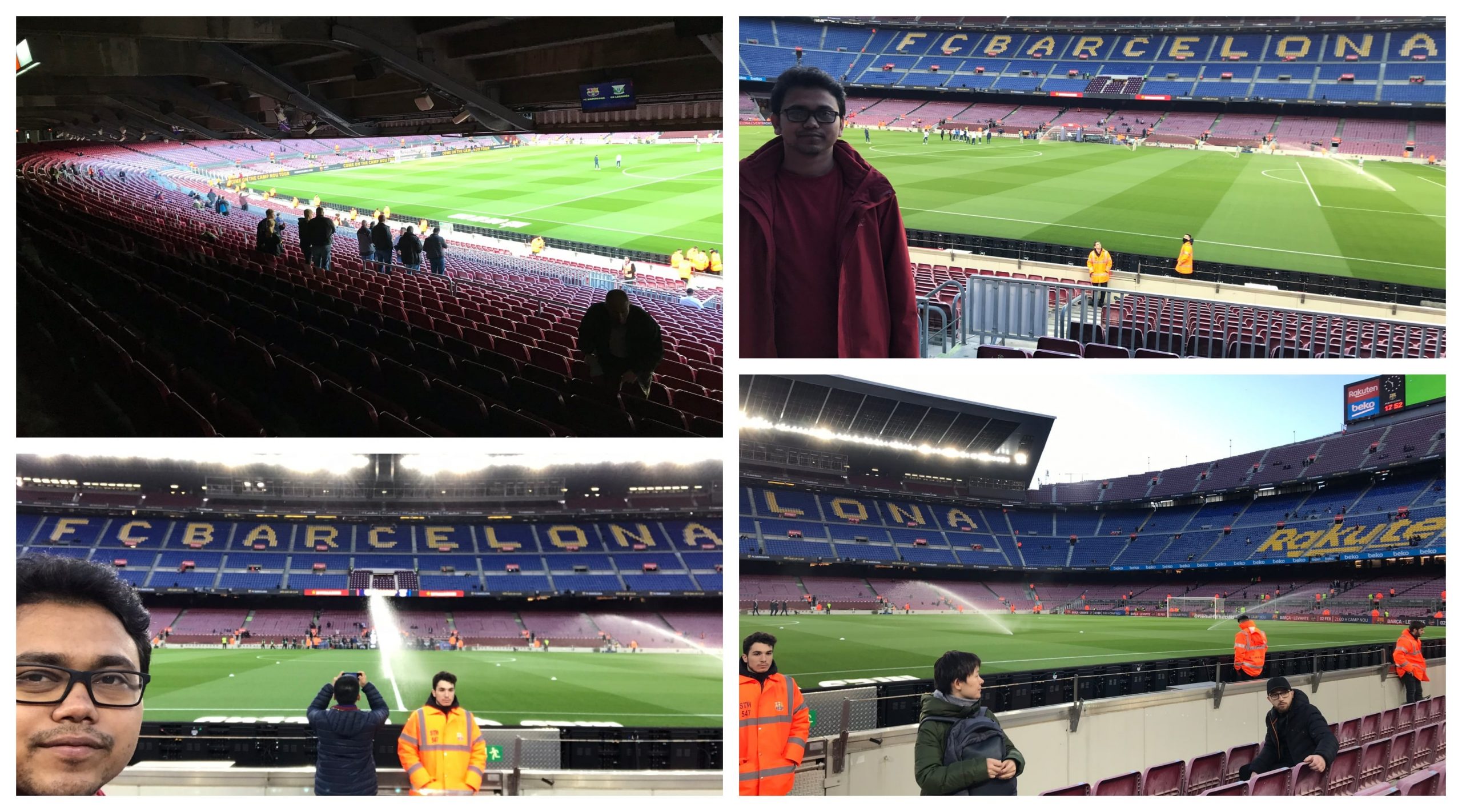 31 January 2020
With a few hours to spend before my flight back to Germany, I roamed around Barcelona and did a bit of shopping myself. It was an amazing experience walking down the streets of Barcelona and exploring local shops and wonders.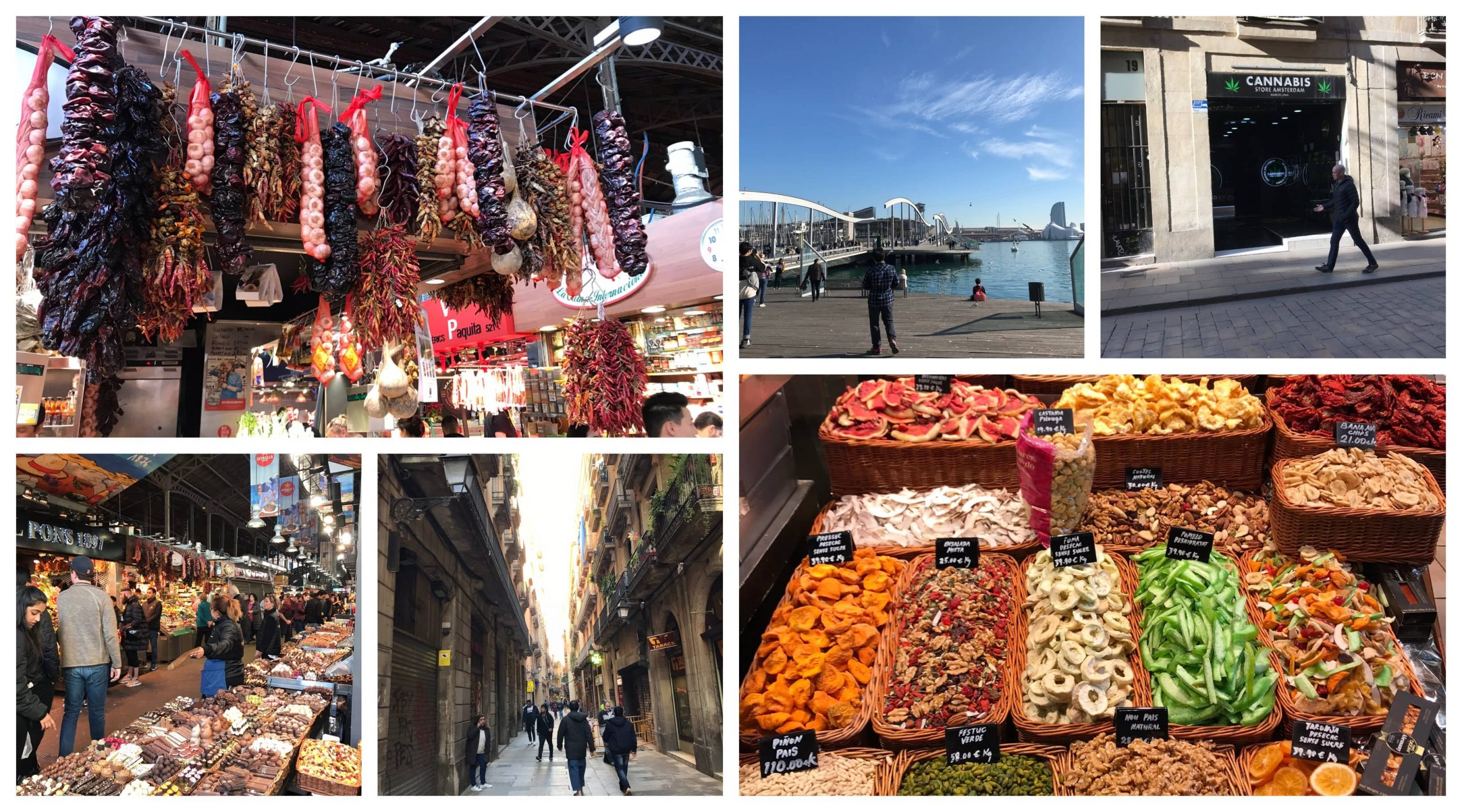 With a heavy heart that this awsome journey of Cisco Live 2020 has come to an end and a hopeful mind to be there for the next Cisco Live 2021 in AMSTERDAM, NETHERLANDS I left Barcelona. I have gathered enough joyful memory on this trip to cherish them in the days to come.
Ciao Barcelona! Holla Amsterdam!
Enjoy!